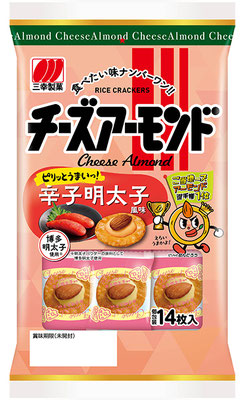 As it approaches its 40th anniversary, the long-standing bestseller 'Cheese Almond' by Sanko-Seika welcomes a new flavor, 'Spicy Cod Roe Style.' This new variety boasts the distinctive and exhilarating flavor of spicy cod roe.
Following a voting process by participants in the "Local Cheese Almond Championship" held by the company from November to December last year, the "Spicy Cod Roe Style" garnered the most votes and has now been developed into a product. This flavor was chosen from a selection of regional tastes representing seven areas across Japan.
The project team commented, "We received numerous opinions expressing not only appreciation for the taste but also for the charming character! We are delighted by this." The packaging features a character named 'Pirittomentarou,' inspired by the spicy cod roe, which was introduced during the campaign, making the product even more appealing. It will be available for sale on August 7th, with a recommended retail price of 237 yen (including tax) for a pack of 14 pieces.
As limited-time offerings, the following three products will be available:
From the long-standing 1977 brand 'Yuki no Yado,' two autumn-inspired varieties, 'Sweet Potato Butter' and 'Milk Karintou Mont Blanc Flavor,' will be on sale from August 7th to the end of September. The former combines Annou sweet potato powder and Hokkaido butter, crafting a popular dessert-like treat. The dough has been modified to provide a lighter texture compared to the regular 'Salada' variant. A pack of 18 pieces is priced at 259 yen.
The latter contains two types of karintou, one with a cream flavor made from 'Yuki no Yado's' cream honey and Japanese chestnuts, and the other with a sophisticated twist using Italian chestnuts to create a Marron Glacé-like flavor. Both types are packed together in one bag, with a weight of 85g and a price of 237 yen.
Available from August 21st to the end of October, the Halloween-exclusive product 'Sankō's Three Assortment' features a combination of three beloved brands - 'Yuki no Yado,' 'Parinko,' and a new style of 'Cheese Almond' called 'Cheese Prankster' - known for being popular snacks for children. The packaging showcases characters from each product and offers a playful feature that allows enjoyment using the bag itself. The assortment weighs 141g and is priced at 432 yen.
On the other hand, catering to children with their easy-to-consume size and texture, all products in the 'Parinko' series, a long-standing bestseller since 1975, have been renewed using 100% domestically grown rice. This effort aims to reduce the environmental impact caused by transportation of imported ingredients while contributing to the improvement of Japan's self-sufficiency in food. After about a year of trial and error, this renewal has finally come to fruition.
The following text is translated by a machine, and it may contain inaccuracies or errors. Click here to view the original text.