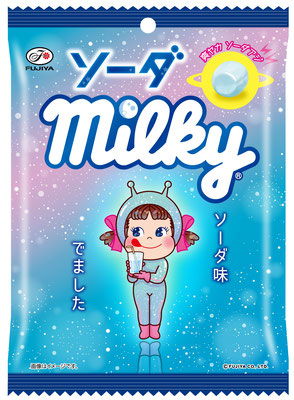 On August 8th, Fujiya will release the novel "Soda Milky Bag," a product of unexplored "soda flavor." An unexpected combination of refreshing soda flavor and the gentle taste of Milky's milk, creating a blue Milky that captures the coolness of soda. Adopting an adorable package design with a mysterious world view featuring the appearance of the "Soda Alien," reminiscent of Peko-chan but not quite! On the back of the package, you'll find amusingly illustrated theories about the birth of the Soda Alien (three variations in total). Net weight: 76g (including individual packaging).

Also launching on August 8th are the autumn flavors to enjoy: "Look (Grilled Sweet Potato)" and "Country Ma'am (Japanese Chestnut Chocolat)." The former is an assortment of two types of sweet potatoes - the moist and intensely sweet "Kurenai Haruka" from Kagoshima prefecture and the elegantly sweet "Goroujima Kogane" from Ishikawa prefecture. 12 pieces per package. The latter combines the strong and aromatic sweetness of Kumamoto-grown Japanese chestnuts with the deep flavor of Dutch cocoa and integrated chocolate chips. 14 pieces per package. Mini sizes (12g, individual packaging) are also available.

As Halloween limited edition products full of Instagram-worthy features, the confectionery will be available from August 22nd, while the Western-style confections will be released at Fujiya pastry shops in mid-September. The confectionery lineup includes: the intriguing "Pop Candy (Magical Monster Bag)" (17 sticks, individual packaging) with changing colors and flavors, the "Halloween Country Ma'am (Vanilla & Candy Apple)" (18 pieces, individual packaging) resembling a fun toy box, the playful individually wrapped "Halloween Home Pie (Butter & Purple Sweet Potato)" (32 pieces, individual packaging), the Halloween Look with varying sauce colors and flavors ("Halloween Look (Monster Park)") (28 pieces, individual packaging), and a set of five "Halloween Sanrio Characters Chocolate" (50g, individual packaging) that you can share with everyone.

For the Western-style confections, there's the transforming "Peko-chan Monster Bag" (includes 2 "Halloween Country Ma'am (Vanilla)" and 7 "Milky") priced at 330 yen including tax. Additionally, there's the "Halloween Madeleine BOX" (5 pieces, 648 yen), the "Halloween Old Fashioned Donuts" (5 pieces, 540 yen), and the "Anpanman Exciting Sweets BOX" (1 bag of gummies, 5 lollipops, 2 lollipop chocolates, 1 box of rolled sketch candy, 1 box of rolled biscuit candy, 900 yen).

The following text is translated by a machine, and it may contain inaccuracies or errors. Click here to view the original text.