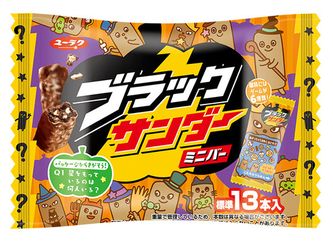 Yuraku Confectionery released the Halloween limited edition "Black Thunder Mini Bar Halloween" (158g, 324 yen including tax) on August 21st. The individually wrapped packaging features Halloween-themed illustrations and includes a total of six different games. This year, there are also games on the outer bag, making it a design that can be enjoyed by both adults and children.
The family pack, filled with mini bar-sized treats, is individually packaged, making it suitable for Halloween treats distribution.
The "Almond Thunder" (19g, 54 yen including tax) will be available at CVS stores from August 22nd and nationwide from September 18th. This product was developed as a nut chocolate bar that allows you to savor the "scent, texture, and flavor of almonds" by using three different types of almond ingredients. The amount of roasted almonds has been increased by 14% compared to last year, enhancing the texture and aroma of almonds. Additionally, the chocolate has been changed to a richer milk chocolate. The addition of coffee powder as a secret ingredient adds depth to the deliciousness.
The package features a character inspired by almonds, creating a playful and distinctive design in the style of "Black Thunder".

The following text is translated by a machine, and it may contain inaccuracies or errors. Click here to view the original text.