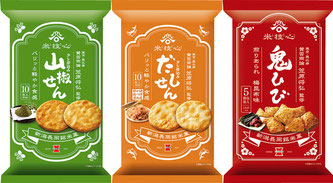 Introducing authentic and slightly indulgent rice confectioneries supervised by Mr. Kasahara from the popular restaurant "Sanpi Ryouron." The three collaborated products (pictured) are seasoned to match the texture of the dough made from 100% Japanese rice, embodying the company's spirit of "Rice, Technique, and Heart."
The two varieties, 'Sansho Sen' and 'Dashi Sen,' are soft rice crackers with a pleasing combination of a moderate outer crunch and a tender inner texture. Each package contains 10 pieces, with an approximate retail price of around 240 yen including tax for both (as follows).
'Oni Hibi Ume Kombu Flavor' is based on the company's popular product 'Oni Hibi,' crafted into roasted rice cracker with a focus on high-quality ingredients. It comes in a 75g package, priced at around 280 yen.
The product packaging highlights the character "岩" (meaning "rock" or "stone") in the logo. Each of the three products is represented through packaging colors and illustrations, creating a sophisticated design with a sense of allure.
Additionally, a new flavor, 'Oni Hibi Light Salt Flavor' using "Ako's Roasted Salt," has been introduced. It features a combination of a hard outer texture and a soft, creamy inner layer. Available in a 116g package, priced around 280 yen. All of these items will be released on August 28th.
The following text is translated by a machine, and it may contain inaccuracies or errors. Click here to view the original text.