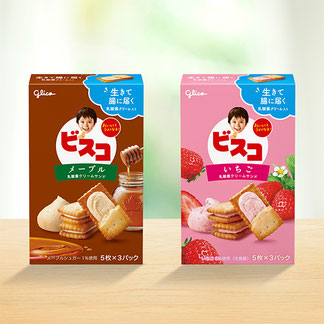 From the lactobacillus cream sandwich biscuit line "BISCO," Glico is releasing new flavors on August 8th: "Maple" (left in the photo) and a significantly revamped "Strawberry" (right in the photo). For the cream filling of the "Maple" flavor, they use maple sugar made by simmering maple syrup solely from Quebec, Canada. To enhance the maple flavor, a hint of caramel powder is included in the cream. The strawberries used in the "Strawberry" flavor are meticulously selected for their variety, using only fully ripe, deep red strawberries. These are harvested, frozen while fresh, and then freeze-dried into a powder. This process retains the authentic sweet-tart flavor of strawberries, which complements the biscuit. Both flavors use whole grain milk biscuits with a gentle taste. Sold in packs of 5 pieces, 3 packs per box.
Under the theme "Pretzels are Best Enjoyed Outdoors!" Glico is executing strategies that leverage the strengths of "Pretzels" as a perfect companion for enjoyable moments outside. With 10 package designs to choose from based on different scenes or preferences, the back of the package features trick art centered around the theme "Pretzels are Best Enjoyed Outdoors!" This encourages customers to take photos with Pretzels. A campaign allows participants to submit receipts for 3 boxes, entering them for a chance to win an original tote bag; 700 bags are up for grabs. In response to the growing demand for summer outings, the company is creating in-store tools to highlight the unique value of "Pretzels." Additionally, they are offering sets for bulk purchases primarily through platforms like Amazon, aiming to encourage habitual consumption. Moreover, they are utilizing Key Opinion Leaders (KOLs) to promote the recognition of the value of Pretzels as a perfect snack for moments of leisure. The lineup includes: "Pretz - Umami Salad Flavor" (69g), "Tomato Pretz" (60g), "Pretz - Roasted Salted Butter Flavor" (62g), "Pretz - Rice Snack Flavor" (62g), "Super Crispy PRETZ - Herb-Scented Aromatic Chicken Flavor" and "Japanese-style Dashi-Flavored Scallop Soy Sauce Flavor" (both 55g). Each flavor is offered in two packaging designs. "Pretz - Rice Snack Flavor" launches on August 8th, while the others are available from August 1st. Each is priced at 124 yen excluding tax. The target audience ranges from teens to women in their 40s who have active and time-restricted lifestyles.
To cater to the refreshment needs of adults seeking a change of mood, the "Cream Colon - Adult Sweet Potato" flavor will be available from August 10th. It encases a gentle-sweet cream made from domestically sourced sweet potatoes within a purple, crispy waffle. Packaged at 48g, it will be sold for 138 yen. This product targets women in their 30s to 40s seeking mood enhancement and relaxation.
For Halloween, a limited edition "Caplico Mini Large Bag" will be launched on August 22nd. It comes with an original coloring mask that's perfect for Halloween. The bag includes three flavors: strawberry, vanilla, and chocolate (only packaging changes have been made). The price is 358 yen.
The following text is translated by a machine, and it may contain inaccuracies or errors. Click here to view the original text.