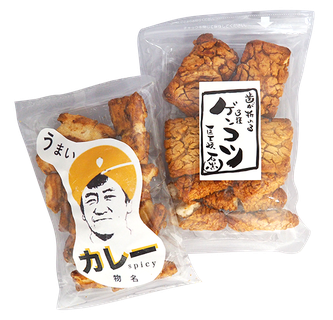 The world is vast, and amidst the currents of societal trends, Ishiguro Co., Ltd. stands out with its strong individuality. The company, now led by its second-generation president, Masayuki Ishiguro, boasts a remarkably unique character. Based in Kanuma City, Tochigi Prefecture, the company was founded in 1962 and specializes in crafting premium rice crackers made from 100% domestically grown rice.
The company's flagship product, "Iou-Yaki," derives its name from the nearby designated cultural property, the ancient temple Yamei-in Iouji. Founded in 1962, Ishiguro has exclusively focused on crafting high-quality rice crackers. Notably, their "Daimangetsu" rice cracker received the Director-General's Award at the 1989 National Confectionery Exhibition (held in Matsue).
While large-sized rice crackers like "Daimangetsu" have become increasingly rare, Ishiguro Co., Ltd. truly shines in producing a diverse range of rice crackers, from bite-sized to large-format. Their distinctive approach is most pronounced in the larger rice crackers, characterized by their use of domestically grown glutinous rice and a carefully selected soy-based dipping sauce. With each hearty bite, the harmonious blend of rice and soy sauce flavors unfolds.
Take, for instance, the "Three Kinds of Tooth-Breaking Kibidango" (pictured above). This product includes three varying sizes of kibidango rice cakes, as the name suggests, a delectable treat that might just challenge your dental fortitude. Similarly, the smaller kibidango wrapped in seaweed, known as "Ponkotsu Okaki (Assorted)" (pictured below), comes with a playful disclaimer: "It may be a bit cracked, but please enjoy this 'Ponkotsu' treat." Ishiguro also offers an array of unconventional creations, including the popular "Ichigo Miruku" (Strawberry Milk) flavor and a pon snack resembling the local Kanuma soil, totaling around 30 varieties.
In a world embracing soft and mild trends, such bold uniqueness serves as a distinctive appeal, capturing the attention and curiosity of consumers. Nevertheless, President Ishiguro remains modest.
"While we do aim to highlight our distinctiveness, the name 'Ponkotsu' actually came about when my daughter playfully exclaimed, 'Look at this Ponkotsu old man!' poking fun at me from behind," he shares with a laugh.
Around 12 to 13 years ago, during a challenging time when the factory suffered a fire and the company faced adversity, his second daughter's words were a turning point for President Ishiguro. "That 'Ponkotsu' incident spurred me to become more humble rather than disheartened. It reminded me to return to my roots and reorient myself towards our livelihood, which eventually led me to adopt it as a product name."
Ishiguro's predecessor hailed from the downtown Asakusa district in Tokyo, forced to evacuate to the current location due to the Tokyo air raids during World War II. The art of making rice crackers within the company traces back to founder Kouhachiro Ishiguro, who honed his skills through apprenticeships at former rice confectioneries. This lineage remains deeply rooted in traditional Edo-style craftsmanship, even embracing the now-rare practice of sun-drying due to its significance in their craft.
The following text is translated by a machine, and it may contain inaccuracies or errors. Click here to view the original text.