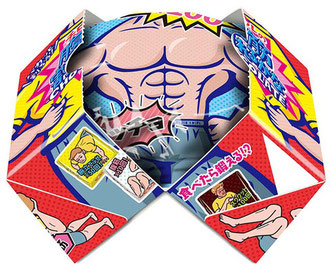 "Italian Gelato (Bag)" replicating an Italian-originated sweet will be released at Seven-Eleven on July 7th. This assorted product allows you to enjoy three flavors of gelato chocolate: pistachio, chocolate, and strawberry. It recreates the crispy texture of the cone using Fiantine waffle crunch and also emphasizes a refreshing and cool sensation. Contains 9 pieces (3 of each flavor), priced at 162 yen including tax (same below).
On July 10th, the "Can I Get Six-Pack Abs? BOX" that allows exercising with a muscle training menu will be released. When you open the BOX illustrated with a character wearing a T-shirt, a bag with illustrations of "slim macho" and "fluffy" bellies pops out. There are four different patterns for the bag's illustrations. The individual packaging contains a total of 12 types of muscle training exercises, including abdominal, back, and squat exercises, making it enjoyable even as a game. It includes an assortment of three flavors: cacao nibs, chia seeds, and banana smoothie. Contains 12 pieces (4 of each flavor), priced at 216 yen.
The following text is translated by a machine, and it may contain inaccuracies or errors. Click here to view the original text.