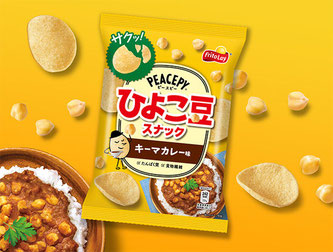 On July 31st, "Peas & Chickpea Snack - Keema Curry Flavor" (pictured) will be launched by Japan Frito-Lay, tantalizing appetites with the taste of chickpeas and spices.
This summer, a snack with the perfect combination of chickpea-derived sweetness and umami, along with a spicy flavor that makes you crave Keema Curry. In addition to the savory chicken and rich vegetable flavors, several types of spices and garlic are used to faithfully recreate the appetite-inducing Keema Curry taste. The addition of tomatoes as a hidden ingredient adds depth to the flavor, resulting in a refreshing and well-defined aftertaste.
The period from July to August witnesses an increase in popularity of curry-flavored snacks. Chickpeas, known for their compatibility with spices, are frequently used in curry recipes, which prompted the development of the new Keema Curry flavor. According to Mayu Urano from the Marketing Division, a significant focus was placed on capturing the characteristic texture and spiciness of Keema Curry. Through varying the spice blend, the aim was to achieve an authentic yet easily enjoyable taste. Additionally, emphasis was placed on creating an addictive quality that keeps consumers coming back for more. After experimenting with different seasonings, chicken emerged as the final choice. By using chicken with a mild flavor profile that still maintains a solid meaty essence, they were able to enhance the spicy and crisp flavor. Each package weighs 45g, and pricing is open.
The following text is translated by a machine, and it may contain inaccuracies or errors. Click here to view the original text.