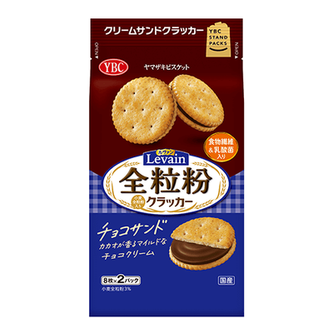 Yamazaki Biscuits will release 'Levan Whole Wheat Chocolate Sandwich' on August 7th, a product that emphasizes ingredients and health-consciousness with its flavorful whole wheat and chocolate cream. The chocolate cream, mildly scented with cocoa, is sandwiched between the whole wheat layers. By combining the complementary elements of whole wheat, which is rich in dietary fiber, and chocolate, along with the addition of probiotics in the cream, the product enhances its appeal for health-conscious consumers. The product comes in packs of 16 pieces (8 pieces x 2 packs) and is priced at 220 yen before tax.
'Chipstar S Sesame Oil and Nori Flavor' will also be released on August 7th, combining the savory aroma of sesame oil with the taste of seaweed. The combination of sesame oil and seaweed creates a more flavorful and lingering deliciousness. Two types of seaweed, roasted nori and aonori, are used. Aonori is kneaded into the potato dough, while roasted nori is sprinkled along with the seasoning powder. The product is available in a 45g pack.
On August 7th, 'Aerial Pepper Steak Flavor' will be launched, offering a juicy taste with a spicy kick of black pepper. A dual seasoning method is used, where cream infused with black pepper is added after frying, and the product is finished with a pepper steak-flavored powder. This dual seasoning technique creates a rich and bold flavor, making it a perfect summer snack. The product comes in a 65g pack.
A single autumn treat made with Hokkaido-grown kabocha (Japanese pumpkin), 'Levan Prime Sand Mini Kabocha Pudding Flavor,' will be available on August 7th. The cream sandwich is inspired by the flavor of sweet and slightly caramelized kabocha pudding, complementing the richly flavored prime cracker. The product comes in packs of 62g (31g x 2) and is priced at 180 yen.
'Noir Mini Mont Blanc Flavor' combines the smooth taste of chestnut-flavored Mont Blanc with the cocoa aroma and will be released on August 7th. The noir cookie, infused with a delightful bitterness of cocoa, is paired with the creamy Mont Blanc filling. The product comes in packs of 70g (35g x 2) and is priced at 180 yen.
Launching on August 7th, 'Picola Purple Sweet Potato Flavor' offers a flavorful experience with its purple cookie base and flavorful anko (sweet red bean) cream. The stick-shaped cookies are adorned with swirling yellow lines, reminiscent of baked sweet potatoes. The crunchy cookies are paired with a creamy anko cream enriched with the smoothness of butter. The product is available in packs of 10 sticks (5 sticks x 2 packs) and is priced at 120 yen.
As Halloween specials, 'Noir Chocolate Flavor Individual Pack HW' (12 pieces = 2 packs of 6, 220 yen) and 'Noir Crunch Chocolate Pumpkin (HW)' (11 pieces, 230 yen) will be released on August 28th.
The following text is translated by a machine, and it may contain inaccuracies or errors. Click here to view the original text.