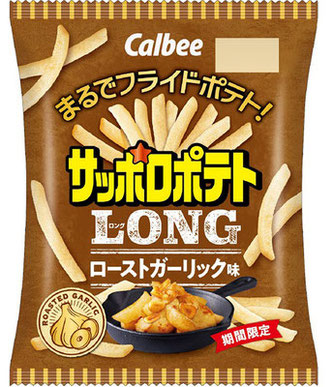 Starting from July 3rd, Calbee will release a limited-edition product, "Kappa Ebi Sen White Shrimp," made with 100% locally sourced white shrimp from Toyama Prefecture and featuring an elegant white dough. It will be available in convenience stores (CVS) first, and the release to other stores is scheduled for July 10th (end of sales planned for mid-November). The package contains 50g.
From July 10th, customers can enjoy the crunchy texture and rich garlic flavor of "Sapporo Potato LONG Roast Garlic Flavor," which will be exclusively available in CVS before becoming available in other stores on July 24th (end of sales planned for late October). The package contains 54g.
On July 17th, a collaboration between Tsukada Farm and Calbee will bring the "Miino Edamame Shio (Salt) Triangle Pack" to the market. The product will be sampled at Tsukada Farm stores with 100,000 units available and will also be used to prepare croquettes at the same store. This convenient and user-friendly portioned snack weighs 56g and is planned to be available until early October.
For those looking for a perfect gift or a treat for themselves, "Gran Calbee" offers the "Gran Calbee 2-Flavor Set" (Potato Crispy Garlic Salt Flavor and Potato Aroma Truffle Salt Flavor) on all Jay Air routes from July 21st. The package contains 60g of each flavor and costs 1,000 yen (tax included).
Newly introduced and sure to become addictive, "Spicy Pizza Potato" featuring the unique and gradually spicy combination of habanero and cheese will be available in CVS from July 24th. For other stores, it will be released on August 7th (end of sales planned for mid-November). The package contains 57g.
From the series of snacks perfect for pairing with alcoholic drinks, "Adult Jagariko Umakara Menta Cheese Flavor" offers the enjoyable blend of spiciness from chili pepper and umami from mentaiko (seasoned cod roe). It will be available in CVS from July 24th and in other stores from July 31st (end of sales planned for early December). The package contains 38g.
Products without a price indication are all open-priced (OP).
The following text is translated by a machine, and it may contain inaccuracies or errors. Click here to view the original text.