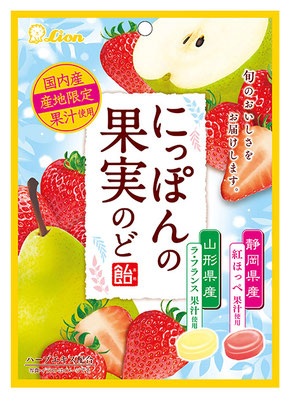 As the autumn-winter version of "Nippon no Kudamono Doh Amé" (Japanese Fruit Hard Candy), "La France and Akahou" flavors will be released on August 28th.
This series allows you to savor the deliciousness of Japan's seasonal fruits. For this release, you can enjoy two flavors: La France from Yamagata Prefecture and Akahou from Shizuoka Prefecture. While both flavors have been previously available individually, this combination is a first. They have been newly formulated and enhanced for even better taste. The candies also contain herbal extracts, which are gentle on the throat. The target audience is both men and women aged 10 to 40 years. Each pack contains 71g of candy.
On August 28th, you can also indulge in "Mikan no Meisan Chi Candy" (Candies from Famous Mikan-producing Areas), which offers three varieties of mandarin oranges.
The "Meisan Chi Candy" series has previously featured peach, grape, and strawberry flavors, and this time it is the fourth installment. You can compare the tastes of three types of mandarin oranges: "Setoka" from Ehime Prefecture, known for its strong sweetness and aroma; "Wenzhou Mikan" from Shizuoka Prefecture, which strikes a perfect balance between acidity and sweetness; and "Hyuganatsu" from Miyazaki Prefecture, which has a flavor similar to grapefruit. The target audience for this product is women aged 10 to 40 years. Each pack contains 67g of candy.
On August 21st, the Halloween limited edition of "Kiechau Candy," called "Kiechau Candy Halloween," will be available for purchase.
The packaging of this edition features three random illustrations on the back. The candies are individually wrapped in five different package designs that make them perfect for sharing with others. The candy comes in 16 pieces that change from purple to transparent, yellow, or green, and one piece of golden candy with a gold foil. All the candies are grape-flavored. The target audience for this product is young parents and elementary and middle school students. Each pack contains 85g of candy.
Finally, on August 7th, the refreshing Japanese Pear-flavored "Nashi no Do Amé" (Japanese Pear Hard Candy) will be released, using pureed Nashi from Chiba Prefecture.
The candy uses grated puree from Kousui Nashi, a type of pear grown in Chiba Prefecture, which is not commonly seen in other candies. It allows you to fully enjoy the taste of autumn. The candies contain 21 kinds of herbal extracts. The target audience for this product is men and women aged 20 years and above. Each pack contains 80g of candy.
The following text is translated by a machine, and it may contain inaccuracies or errors. Click here to view the original text.