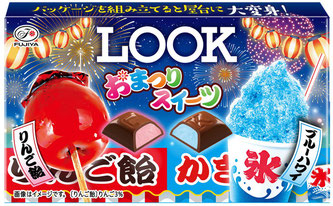 On July 4th, three popular brands from Fujiya, namely "Look," "Country Ma'am," and "Home Pie," introduced limited-edition products with a summer festival theme. Traditional festival treats such as shaved ice, candy-coated apples, chocolate bananas, and cotton candy have been transformed into Fujiya's delightful confectioneries. The packaging comes with interactive features like assembling into a miniature stall or incorporating a game of sugoroku (a Japanese board game), providing post-consumption enjoyment and allowing you to relish the summer festival atmosphere at home.
"Look (Omatsuri Sweets)" offers two flavors: candy-coated apple and blue Hawaiian shaved ice. When you assemble the packaging, it transforms into a festival stall. Each package contains 12 pieces.
"Country Ma'am (Vanilla & Chocolate Banana)" features a classic vanilla flavor and an assortment of popular chocolate banana cookies sold at festival stalls. Inside the package, there's a sugoroku printed, allowing you to play the game. If you freeze them for over 30 minutes, you can enjoy a crispy texture with chocolate chips. Each package contains 16 pieces.
"Home Pie (Butter & Cotton Candy Flavors)" presents a combination of traditional butter flavor and the well-liked "cotton candy" flavor often found at festival stalls. The pie is kneaded with plenty of sugar and sprinkled with pink-colored sugar to resemble cotton candy. Additionally, the cotton candy flavor includes a "Lucky Home Pie" with a randomly imprinted summer-themed symbol in one out of a thousand pieces. The inner side of the outer packaging has a sugoroku printed on it. Each package contains 26 pieces.
On July 18th, the Sanrio character unit proudly unveils the "Happy Danbooy Chocolate" with support stickers.
The Sanrio character unit "Happy Danbooy" exclusively commissioned the illustrations of Hangyodon, Peckle the duck, Kerokerokeroppi, Pochacco, Badtz-Maru, and Tuxedo Sam for this particular product and designed limited-edition packaging (all six types) for each character. The individual packaging is also decorated with character designs (all six types, randomly enclosed). Along with the Happy Danbooy characters, fans can enjoy showing their support with support stickers included in each package (seven types in total, including one secret type, randomly enclosed). The contents consist of whipped cream with melon juice, coated in milk chocolate, perfectly capturing the flavor of a melon parfait. Each package contains five pieces.
The following text is translated by a machine, and it may contain inaccuracies or errors. Click here to view the original text.